Brussels Festivals
The city of Brussels plays host to lots of festivals and carnivals each year so the spirit of happy living stays alive and their ancient traditions are carried forward to the next generation.
Whenever you visit Belgium, you will find people celebrating some festival or another. These can include music festivals, film festivals, arts & crafts festivals or celebrations of ancient traditions and ceremonies. Most of these events are intricate with bright costumes and dramatic processions.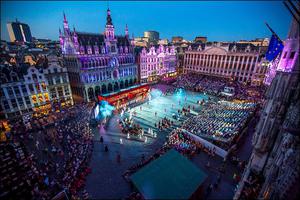 Ommegang Festival
Ommegang Festival
The Ommegang Festival holds a very important position in Belgium's historic and cultural events and is held in honour of Charles V and his son Philip. The festival has been celebrated since 1549 on the first Thursday of every July where more than 1,400 participants participates wearing costumes along with horses, crossbows, antique weapons, carts, and giants. The procession or 'walk about' is held at the Place du Grand Sablon where the spectators can watch the spectacular event along with respected dignitaries of Belgium including the Royal Family.
Address: Rue des Tanneurs, 180, 1000, Brussels, Belgium
Tel.: +32 2 512 1961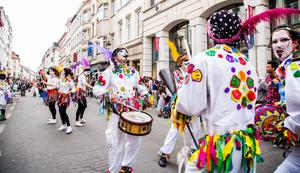 Zinneke Parade
Zinneke Parade
Since the millennium year of 2000, when the Zinneke Parade started, it has become the craziest festival of Brussels. Held every second year, it's a cultural movement held by the citizens, schools and artists of Brussels and they celebrate it by carrying out a modern, innovative and creative parade. Everyone dons multi-coloured costumes and each year the parade revolves around themes like "Zinnergy", "The Body in the City", etc.
Address: Place Masui 13, 1000 Brussels, Belgium.
Tel.: +32 2 214 2007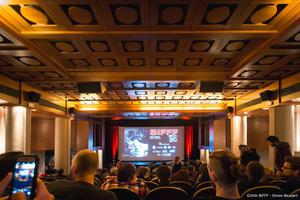 BIFFF
Brussels International Fantastic Film Festival
This festival is for those moviegoers who love creepy, horror films. If you are not fainthearted and love seeing morbid faces, then visiting this festival will give you a once in a lifetime chance of viewing the year's best and scariest horror films. A number of screenings and films are held around all the cinema theatres in the city along with competitions and theatrical events.
Address: Havenlaan 86c Avenue du Port, Tour & Taxis, Brussels, Belgium.
Tel.: +32 900 87900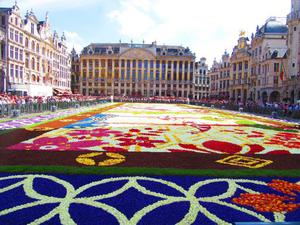 Carpet of flowers
Carpet of flowers
Carpets of Flowers' is an event in Brussels where volunteers from around Belgium come together at the Grand Place and indulge in weaving beautiful carpets made out of assorted colourful flowers. The event is organised in the month of August along with the Assumption Day. Millions of flowers are required to create beautiful embroidery of flowers on the street. This event has been celebrated in Brussels since 1971 and every year has a new theme of decoration.
Address: City Hall - Grand Place , 1000 Brussels, Belgium.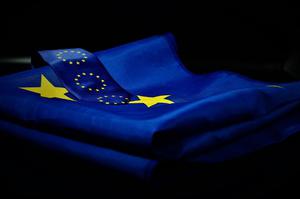 Pixabay/Caniceus
Festival of Europe (Europe Day)
Europe Day is held on 9 May to celebrate peace and unity in Europe. To celebrate Europe Day, institutions in the European Union open themselves to the public in early days of May in Brussels and Strasbourg. The Native EU offices in Europe along with those in the other parts of the world, arrange several activities and events. Several people attend these grand celebrations in Brussels and witness the debates, concerts and other events which are organised to celebrate the day of establishment and spread more awareness about the institution of European Union.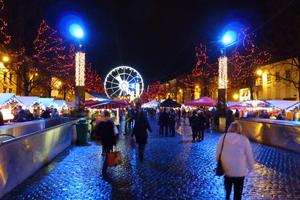 Brussels Christmas Market
As Christmas arrives, Brussels gears up and arranges its annual Christmas market popularly known as Winter Wonders, with a long queue of festive stalls extending from the Bourse Stock Exchange to the Marché aux Poissons fish market and till the Place Sainte Catherine. It consists of a fair, a market and a place where the young ones, their parents and the whole family can enjoy. There are jugglers and musicians to entertain you, various food stalls to keep your taste buds tingling and knick knack shops selling both antiques and new products. If you love ice skating then slide across the rink at the Marché aux Poissons fish market.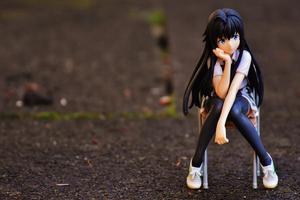 Pixabay/Alexas_Fotos

Anima Festival
Anima is an International Animation Film Festival held in Brussels which takes place in Flagey. Anima is a perfect pace for the lovers of animation films and cartoons. Other than organising the national and international competitions, this fest also nominates some films from the European prize-winners for Cartoon d'Or.
Address: 24, Boulevard de l'Empereur, 1000 Brussels, Belgium.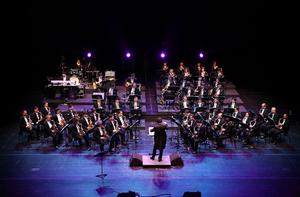 Pixabay/yunje5054
Queen Elisabeth International Music Competition
The Queen Elisabeth International Music Competition a competition organised in Brussels and is meant for budding musicians. This competition is named in honour of Queen Elisabeth of Belgium and has been carried out since the year 1937. There are different types of competitions for classical instrumentalists, singers, cellists and composers. Given competition is believed to be one of the most demanding and prominent competitions of the potential musicians.
Address: Rue aux Laines 20, 1000 Bruxelles, Belgium.
Tel.: +32 2 213 4050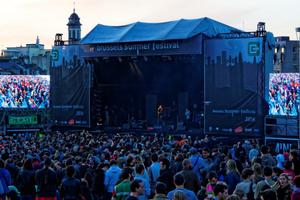 Brussels Summer Festival
The Brussels Summer Festival is a renowned annual music event in Brussels which is also abbreviated as Eu'ritmix. The Festival was first organised in the year 2002 by Jeans Steffens. It is a free event which is mainly meant for European artists. From the year of its establishment, the festival expanded its popularity and soon became one of the most renowned music fest attended by a crowd of thousands. The Fest is held at the attractions and famous squares in Brussels in the month of August.
Address: Brussels Summer Festival, 1 Place de Belgique, 1020 Bruxelles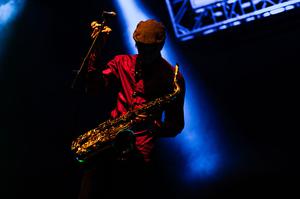 PD photo
Jazz Marathon
The Jazz Marathon is organised for three days in the month of May. This event which is completely dedicated to Jazz Music is organised on the outdoor stages in Grand Place, Sint-Katelijne Square, Sablon Square and Cocq Square. These splendid locations provide an excellent ambience to the audience to enjoy the evening with a glass of wine or beer. The concerts held in this fest are free and open for everyone.

Salon du Chocolat
After attaining success in different cities like London, Paris, Tokyo and New York, this festival was organised in the city of Brussels. It is a special festival dedicated to chocolates. It is a mixture of different events like tastings, cooking displays, patisserie workshops, conferences, workshops, exhibitions and many more. This event is a special culinary treat for the people.
Recommended Activities