Visa Requirements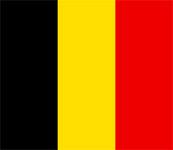 Nationals of the European Union Member States or of the following countries: Iceland, Liechtenstein, Monaco, Norway and Switzerland may move freely. They may stay in Belgium on the strength of a national passport or identity card, and proof that they are members of a health scheme and that they have sufficient means of support (for example an employment contract).
The principle described above also applies to nationals of the 10 countries that joined the European Union on 1 May 2004. However, there will be a two year transition period with regard to nationals from eight of these countries (Estonia, Hungary, Latvia, Lithuania, Czech Republic, Poland, Slovakia and Slovenia) who enter to Belgium in order to undertake paid employment (including work as an au pair). During this period, they will still need to obtain a work permit (except in certain very specific cases of persons 'seconded' to Belgium by a service provider located in an old or new Member State of the European Union).
During the transition period, salaried workers from these eight countries who are not exempt from the requirement to obtain a work permit may enter Belgium without a visa. However, in order to register with the municipality where they live they must have a residence authorization. This may be requested, on the strength of a work permit, at the commune where they live within three months of arrival or prior to arrival at the relevant Belgian embassy or consulate.
Other aliens, i.e. nationals of any countries other than those referred to above, wishing to stay in Belgium for longer than three months require a long-term visa.
Applications for this type of visa may be made only to the Belgian diplomatic or consular authorities competent for the applicant's place of residence.
Specific procedures are laid down for a certain number of situations, i.e. studies, employment purposes, self-employment, family reunification, cohabitation, adoption and a visa for marriage in Belgium.
All other individual cases will be examined by the Aliens' Office on a case-by-case basis.
The application must, moreover, be submitted in due time to allow the Aliens' Office to conduct an investigation if required.
Upon their arrival in Belgium, aliens must report to the municipal authorities of their place of residence.
Official documents drawn up in a language other than French, Dutch, English or German must be translated by a sworn translator;
Foreign official documents (originals and translations) shall be presented, after their legalisation by the local authorities, to the competent Belgian diplomatic authorities. The latter will make the legalisations and true copies for administrative purposes. The originals will be returned to the applicants.
What documents will be required?
General regulations governing higher education
In order to receive authorisation for temporary residence, an individual planning to come to Belgium to study will be required to provide the Belgian Embassy or Consulate in his/her country with: a certificate of good conduct, a medical certificate and the following documents :
a duly completed application form (provided by the local diplomatic or consular authorities)
an admission or enrolment certificate for one of the recognised higher education establishments, grant-maintained or organised by the authority, or an application for an equivalence certificate for a diploma or certificate conferred abroad (only required for French Community education). The entry certificate or enrolment certificate must cover a full-time course of study (fewer hours are acceptable if the interested party can prove that this course of study will represent his/her main activity and will be used to prepare or complement another full-time course of study);
or an enrolment certificate concerning examinations for entering university when these examinations represent the condition for admission to the course in question: particularly the examination testing knowledge of the French language which is required to be entitled to study in French-speaking universities; the examination of qualification for civil engineering studies; the entry examination for medical or dentistry studies at a Dutch-speaking university;
or an entry or enrolment certificate for a teaching establishment appearing on the list of approved establishments updated each academic year by the Aliens' Office;
evidence that the person applying to study in Belgium has sufficient means of support. This evidence may be established by the following documents:
a certificate issued by either an international organisation or a national authority, or by a Belgian or foreign legal person with a sufficient level of income. The certificate must state that the aspiring foreign student has received or will soon receive a grant or loan that is sufficient to cover his/her health care, subsistence, studies and repatriation expenses;
a declaration in respect of the Belgian State and in respect of the student, signed by a Belgian or alien with a sufficient level of income, in which the said person undertakes to accept responsibility for the subsistence, study and repatriation expenses of the foreign student for not less than one academic year;
a medical certificate issued by a doctor approved by the embassy, stating that the foreign student is not suffering from certain illnesses and does not have certain disabilities;
if the interested party is over 21, a certificate of good conduct and a document certifying that he/she has not been convicted of any criminal act under common law.
Visa applicants must be aware that the documents referred to only constitute the basic documents that have to be submitted in every case. Other additional documents may be required by the Belgian diplomatic or consular representation, taking into account the circumstances relating to the file or to the specific context of the applicant's country of origin.
The interested party must obviously have a travel document (passport) valid for at least one year.
Special procedure for primary and secondary school education
Application must be made to the Aliens' Office and the following two conditions must also be met:
the applicant must have family ties (up to the 3rd degree, i.e. grandparents, brother, sister, uncle, aunt, cousin) with a person who is a legal resident of Belgium;
the interested party must be unable to pursue the same type of education in his/her own country or in a neighboring country.
Time required to issue visa:
48 hours to 8 weeks, depending on nationality and resident status, and whether applying by post or in person. Certain nationals must apply in person (contact Consulate or Consular section at Embassy for further details).
You should apply for your visa in person at the relevant Belgian embassy or consulate in your country of residence.
If there is no Belgian embassy or consulate in your country of residence, you should apply to the Belgian embassy responsible for that country (usually located in a neighboring country). This embassy will also tell you if you can submit your visa application in your country of residence via the embassy of another Schengen country.
If you are traveling, you can apply for a short-stay (up to 90 days) visa at the Belgian embassy or consulate of the country you are in at the time. In this case, your application must be submitted to the Immigration Service at FPS Home Affairs for its decision, which may take some time. This option does not exist for long-stay (over 90 days) visa applications.
How long is the visa valid for?
Short-stay (single- and multiple-entry): usually valid for 6 months from date of issue for stays of maximum 30 or 90 days per entry. Transit (single- and multiple-entry): valid for a maximum of 5 days per entry, including the day of arrival. Visas cannot be extended and a new application must be made each time.
The type of visa you need will depend on the length and purpose of your trip. When you apply for your visa, the embassy or consulate will be able to tell you what type of visa you require.
The following types of visa exist:
Type A Schengen visa: airport transit visa
You can normally stay in the international transit area at the airport without a visa whilst you wait for your connecting flight. However, some nationalities require a visa to do this, even if they do not leave the international transit area. The airport transit visa only authorises the bearer to transit through the airport's international area.
Type B Schengen visa
This visa is valid for transit through one or more Schengen countries on the way from one non-Schengen country to another non-Schengen country. The transit may last no longer than five days.
Type C Schengen visa
This visa allows the bearer to enter the territory of the Schengen countries for a maximum stay of 90 days in a six-month period. The visa may be issued for one or more entries.
Type D visa
This is a national visa for a stay exceeding 90 days. It is only valid in Belgium, but can also be used for transit through one or more Schengen countries.
Type D + C visa
This visa entitles you to travel freely within the Schengen area during the first three months after your entry into Belgium, while you wait to receive your official residence permit.
Is my visa only valid for Belgium?
Most short-stay visas issued by Belgian embassies and consulates are Schengen visas. These are clearly marked with the word 'Schengen'.
A Schengen visa is valid for the territory of all Schengen countries and entitles the holder to stay in the Schengen area for a maximum of 90 days within a six-month period starting from the date of the first entry into the area.
If you have received a visa which is only valid for Belgium or the Benelux countries (i.e. Belgium, the Netherlands and Luxembourg) or which is not valid for one or more Schengen countries, this will be clearly indicated on the visa.
What do I have to do to extend my visa in Belgium?
All questions linked to extending your stay in Belgium should be addressed to the municipality of your place of residence in Belgium. However, it is only possible to have your visa extended in exceptional circumstances that could not have been foreseen at the time you made the visa application.
When you arrived in Belgium, you should have registered (lien FAQ que dois-je faire à mon arrivée en Belgique) at the municipality and been issued with a declaration of arrival. On the basis of this document, it may be possible to have the visa extended via the municipality, who must seek authorisation from the Immigration Service at FPS Home Affairs.
Even if you were not required to register with the municipality (because you were staying at a hotel, camp site or youth hostel, or were being admitted to a hospital or prison), you must contact the municipality of your place of residence if you wish to extend your stay.
For further information, please consult the municipality or the Immigration Service's Visa Extension Department
Embassy contact information:
Please contact the `Nearest Belgium Embassy `_ for information on what documentation you may require to enter Belgium.
Please note: The information contained in this website is for general information purposes only. Any reliance you place on such information is therefore strictly at your own risk. Please contact your nearest embassy for accurate, up-to-date information.
Recommended Activities