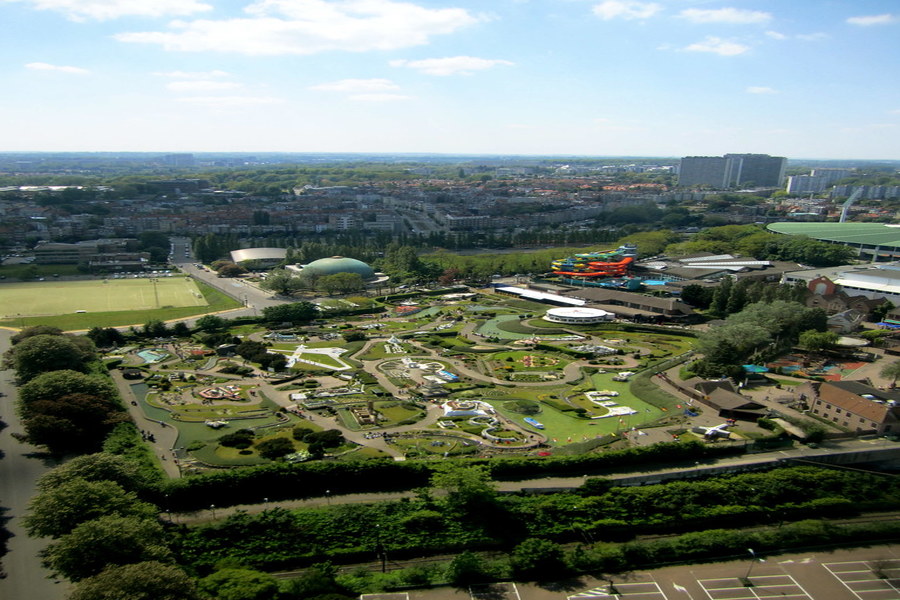 Credit: Flickr / La Citta Vita / CC BY-SA 2.0
Theme parks in Brussels are perfect hotspots to spend a fun-filled day with the whole family. So, get ready for an exhilarating experience and a guaranteed good time for all.
1. Mini-Europe
Imagine touring the  whole of Europe in just a few hours. If this excites you, then plan a trip to the theme park, Mini-Europe. Located at the foot of the Atomium, visitors could stroll around the park and enjoy the miniature versions of Big Ben, the Eiffel Tower, the gondolas and mandolins of Venice, and much more. The 350 models are a delight, and visitors can also look out for activities packed with interactive multimedia games. The park also plans a special lighting show and spectacular fireworks on Saturdays in August 2018.
2. Océade
The family water park, Océade has trendy decor, new cloakrooms, 14 exciting slides and more. Situated in the north of Brussels, the park is easily accessible both by public transport and by car. At the park, enjoy water slides like L' Ouragan, which reaches speeds up to 50km/h, or the longest slide Barracuda. The Anaconda is a perfect slide for family and friends, and kids can have a time of their life at the Aquafun House. While kids are having fun, adults can rejuvenate at the Saunaland. The park also includes bars and restaurants offering panoramic views over the park.
3. Stardust Park
Stardust Park, located near Forest National, is one of the biggest indoor playgrounds in Brussels. So, for your kids between 2 and 12 years, this park featured with race cars, mazes, climbing frames, is a must-visit. The park covers 4000m2 and has three-floors devoted to giving the kids an unforgettable adventure. The park also houses shops where one can buy souvenirs and fabulous toys and a restaurant where one can lounge and enjoy fine cuisine.
Ready for an electrifying experience at the theme parks in Brussels? Do remember to hire a car in advance, for a comfortable touring of the city.