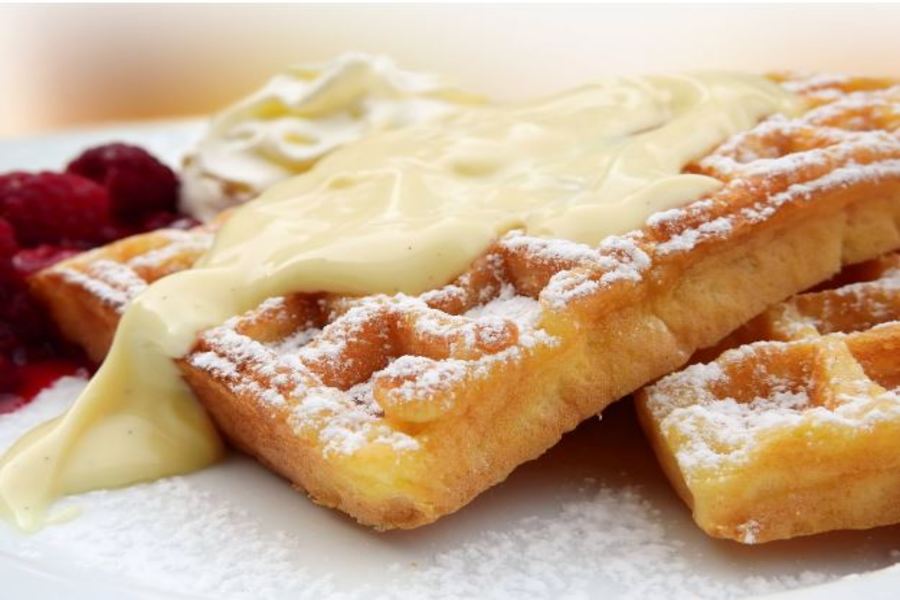 Brussels is Belgium's most densely populated city bustling with amazing places to eat, drink and make merry. It offers a decedent culinary landscape that has flavours for all palates; here visitors are truly spoilt for choice. Here are 5 must-haves from Brussels:
Belgian Waffles
Credit: Rohini Kulkarni
There may not be a lot of things people know about Belgium but its waffle has garnered recognition worldwide. The square Brussels waffle available at food stalls around the city is pretty popular; the airy batter makes perfect fluffy waffles which you can enhance with a variety of toppings (powdered sugar, fresh fruit, and whipped cream). However, there is a hidden gem; the Liège waffle, made with brioche dough and caramelized sugar chunks inside; its gooey richness makes it an absolute delight. Head to Dandoy Tea Room for what are arguably the best Liège waffles in Brussels.
Frites
The Belgians and the French have a long-standing dispute about the true origins of Frites but everyone agrees that fries are the best snacks. You'll find Brussels peppered with pop up friteries. Make sure you visit either Maison Antoine or Frit Flagey, they have branches around Brussels, so you can enjoy the national dish anywhere. 
Mussels
A classic of Belgian cuisine, Mussels (molluscs with a brown or purplish-black shell) are not only very tasty but also extremely nutritious; they are rich in vitamins and minerals and contain desirable fats. However, be careful where you eat these critters; head to trusted restaurants like Chez Léon or Le Zinneke for some quality mussels in Brussels.
Beer
It is said that "In Italy, being a gondolier is a family tradition. In Belgium its brewing beer." Beer and other spirits are an irreplaceable part of the cold Belgian life. Distinct brews waft with aromas of clove, pepper, and bananas, are a huge source of inspiration for contemporary craft brewing globally. The nation is home to over 200 breweries, some dating back centuries. If you do stop by Chez Léon don't miss their special Léon beer.
Chocolate
Belgium has a rich history of chocolate making and filled Belgian chocolates such as truffles and moulded pralines are world-famous. Belgian chocolate is made of cocoa mainly sourced from Congo and is thus more buttery, medium sweet with a hint of bitterness. You can take a tour to discover the world of sweet sinful indulgence or visit some of our favourite chocolatiers, Belvas and Galler Chocolatier.