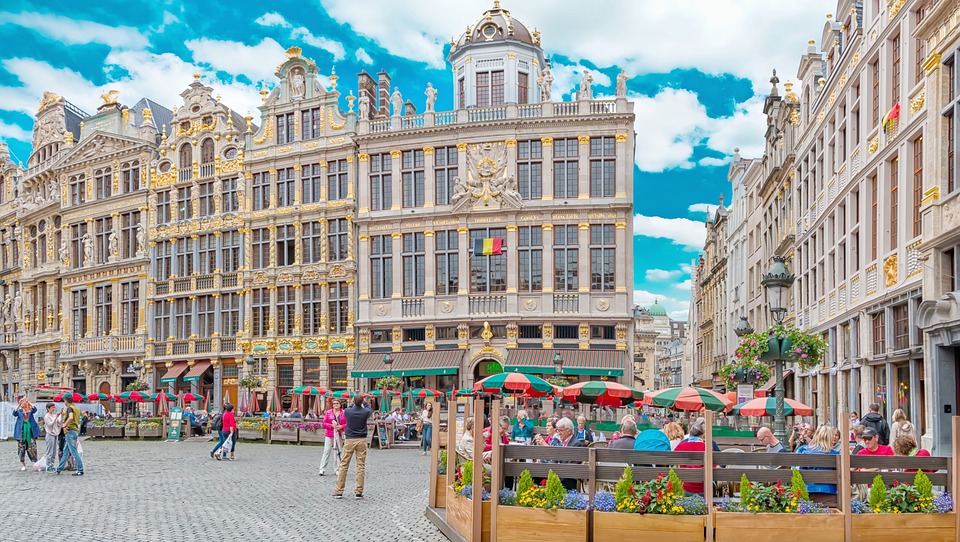 Brussels is not just the capital of Belgium, but also the administerial center of the EU, which is why you may think it's more about business than fun.
The Grand Place
Also known as Grote Markt, Grand Place is the central square of the city where you'll remain awestruck by the beauty of the buildings surrounding it. You'll notice there are six guild halls and two taller and more grandiose building. These are the city's Town Hall (built in the 15th century) and the King's House.
The architecture of these buildings is impressive, and we're sure you are going to enjoy the museums, but the square is an attraction in itself. Here you get to see different activities and many people recommend visiting it at night.  
Truth be told, from a certain point of view, the city does look serious and cold. But once you get to know its streets and people, you'll find a multi-layered atmosphere with lots of cool things to do and discover.
Starting with the astonishing architecture and ending with the delicious fries, mussels, and beer, Brussels is ready to entertain everyone! Now, if you're new and don't quite know where to begin, here are some tips:
Notre Dame Du Sablon
If you're in Brussels for the architecture, then you must make sure to visit this spectacular Gothic cathedral! Built in the 14th century, Notre Dame Du Sablon was used by the Archer's Guild as a chapel (of course, it was smaller back then).
In the 15th century, the cathedral got to the size it is today and received the legendary statue of Madonna that was supposed to have healing powers. As the legend goes, the original statue was stolen, but you can admire a life-size replica instead.  
Casinos
Yes, a city like Brussels couldn't exist without wonderfully designed casinos!
So, if you're in for a good time, make sure to visit some of the most exquisite casinos in the city! A good point to start is the Grand Place, where you can find the "Le Grand Casino de Bruxelles", one of the finest entertainment establishments in the area. Here you'll feel like in Vegas, with all sorts of games and glitzy atmosphere.
Other two famous casinos to try are Cameo Palace and Viage, both situated in a central area. And, if you don't feel like leaving your sumptuous hotel room, you can always go to CasumoCasino.se and enjoy the casino experience in the utmost comfort.
Beer & Coffee
Beer is one of the beverages that played an important role in the history of the city. As such, today there are several famous locals that brew and sell some of the tastiest beers in Europe!
Tourists can even take a beer tour that will take them to the best pubs and teach them about the history of beer and how it influenced Brussels' development. You can even get to see how beer is made, by visiting one of the famous breweries in the city.
Coffee, on the other hand, is more about location. For instance, if you want to get in touch with locals, expats, and tourists all you need to do is visit Café Belga, in the heart of Place Flagey. The atmosphere is great, and you get to taste some amazing Belgian coffee.
The Nightlife
Brussels has a booming nightlife (besides the casinos) and there are lots of options for all sorts of tourists. From locals where you can dance and play society games, to locals where you can meet new people and make some friends.
Of course, you'll get to taste some amazing beer while you're enjoying the nightlife in this amazing city!
Wrap Up
Brussels has a lot more to offer, but it all depends on the time you have set aside for visiting and having fun. If you're only staying a few days, the attractions we mentioned may be more than enough.